Kennis
HipChat! Easy communication
HipChat! Easy communication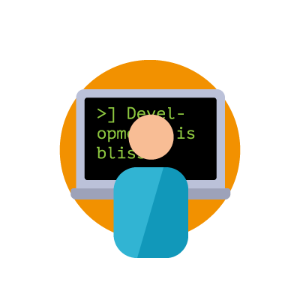 Atlassian Hipchat is a Private Group Chat and IM Service. It allows you to communicate within rooms, get build status notifications, send files, use on any device and much more.

Communication
How do you communicate effectively with all your colleagues and customers about all those subjects you need to discuss? Are you using email? Email works because you can keep track of all the exchanges, you can read them offline, you don't have to answer people directly and you can add people to the conversation.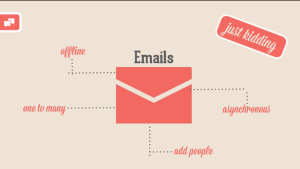 But actually, as far as communicating effectively, email pretty much sucks! I mean, they're bad for conversation, you get too many of them so it basically becomes spam, messages are often too long and more importantly, they always necessitate an action. You either have to read it, reply to it, move it, flag it, mark it as spam or delete it.
At Avisi..
At Avisi we use Chat Rooms to communicate. For instance we have a channel dedicated to the Atlassian plugins we write. There we talk about code changes, ideas, reviews or things that need to get done. We have it integrated with our build server so we also get notifications right in there if a build fails. Another room we have is for our Atlassian Experts to communicate about customer support. We also have a room for management, where we can ask direct questions...
The advantage of using rooms is that you can join or leave them whenever you want. So no more spam.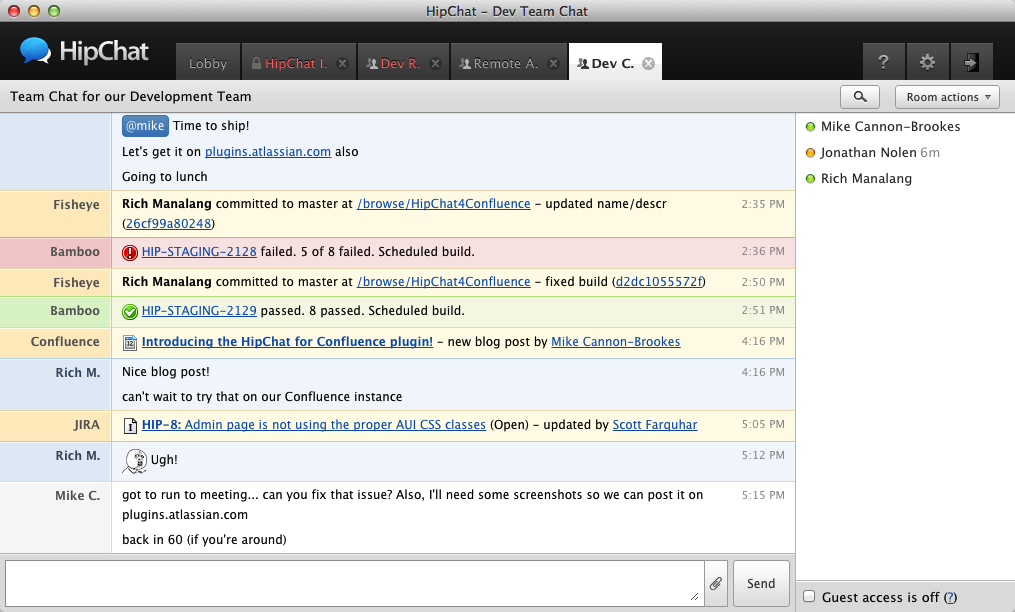 Ideas
It also works great for new ideas. Create a new room, pull the people you want into the chat room and discuss it there. No more wasting time scheduling meetings! This way people contribute what they can when they have time.
Advantages
Chat is great for different timezones. The chat records all the conversations that happened during the night.
You can easily pull people into the conversation.
Use it for local conversations too to avoid interruptions and keep people in 'their zone'.
All the history is in the chat room. You can easily find back the information you need.
Great integration with all other products of Atlassian.
You can write your own hooks!
Easy file sharing

I use Skype
Good for you! At least you've already switched to using chat. So what are the advantages of HipChat compared to Skype?
Skype doesn't let you rejoin a group chat you've left without someone who's still present inviting you back
Using HipChat mentions (@name..) to get someone's attention or invite them into a room makes the whole thing so much easier
HipChat integration with for instance Bamboo, Jenkins to get build notifications
Integration with JIRA so keep track of your issues
Ability to create your own integrations in HipChat to suite your specific needs
Free to use with up to 5 users
Use meme emoticons!
Upcoming features
HipChat Server
Currently HipChat is a secured cloud solution, but oganizations often demand that all their data be stored within their own network. That's where HipChat server comes in. A standalone application you can run within your own private network, integrated with your current user management (JIRA, ActiveDirectory, LDAP, etc).
Video support
One of the missing features that's coming soon is one-to-one video support. We've seen the demo and we think you will like it!
I want to switch!
And that's where we come in. An an official Atlassian Partner we're here to help you switch over to HipChat, integrate it with your current software or advise you on how to proceed. So do let us know if you need any help.
---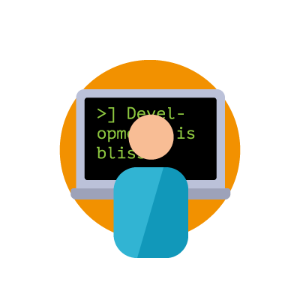 Blijf op de hoogte — Schrijf je in voor onze nieuwsbrief.