Being a developer and lecturer I have lots of things on my mind, never a dull moment during programming, coaching or teaching. I sometimes feel like a juggler trying to keep as much as balls in the air as possible, so a few years ago I decided to adopt the Getting Things Done time-management method and apply it to my mailbox.
The result is a highly organized Apple Mail application with every day at most 5 unanswered e-mails, but most of the time the mailbox is empty and e-mails are answered or marked because action is needed. Recently I started doing extra projects having lots of small tasks that I have to do myself or tasks that need my supervision. Communication about these projects is done by e-mail, so I looked for a way to couple these emails to issues in a planningboard.
I decided to keep track of my tasks in JIRA Greenhopper, but after a few days I started to hate the context switch and the copy-pasting of issue contents so I took Automator for a test drive ending up with a nice extra context menu item that enables me to create JIRA tasks directly from Apple Mail. I took JIRA CLI for the heavy lifting instead of the JIRA SOAP API.
The Automator script outline looks like this: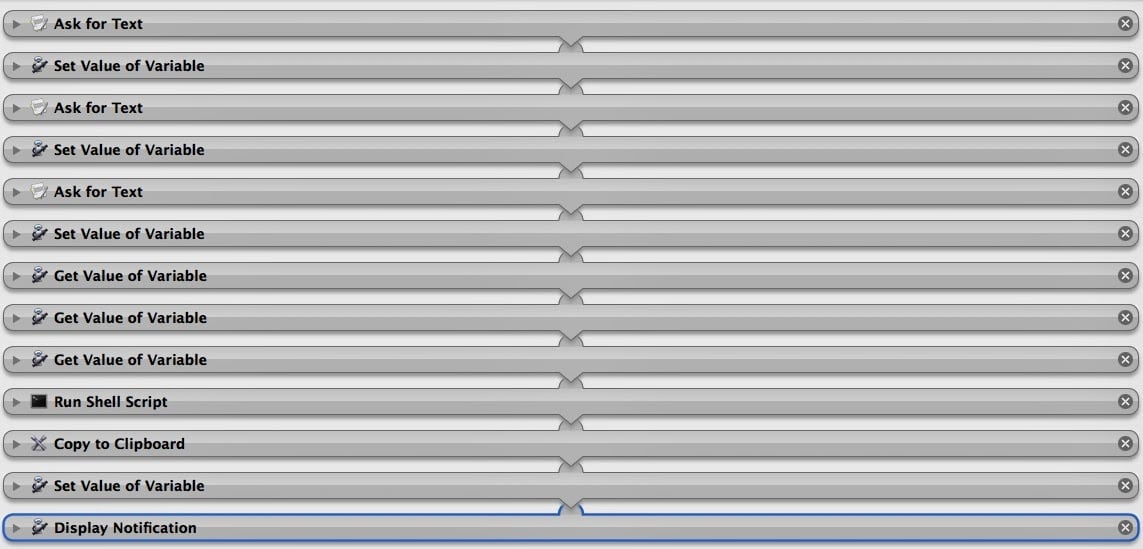 There are three major parts in the script:
Three blocks combining "Ask for Text" and "Set Value of Variable". This leads to three variables, IssueDescription, IssueTitle and JiraProject holding the description and title of the issue and the project key to add the issue to.
The Run Shell Script, preceded with three stacked blocks holding the variables. This leads to having three parameters in the Shell Script, the IssueDescription, the IssueTitle and the Project.
Passing the result of the Run Shell Script through the Clipboard to the Display Notification.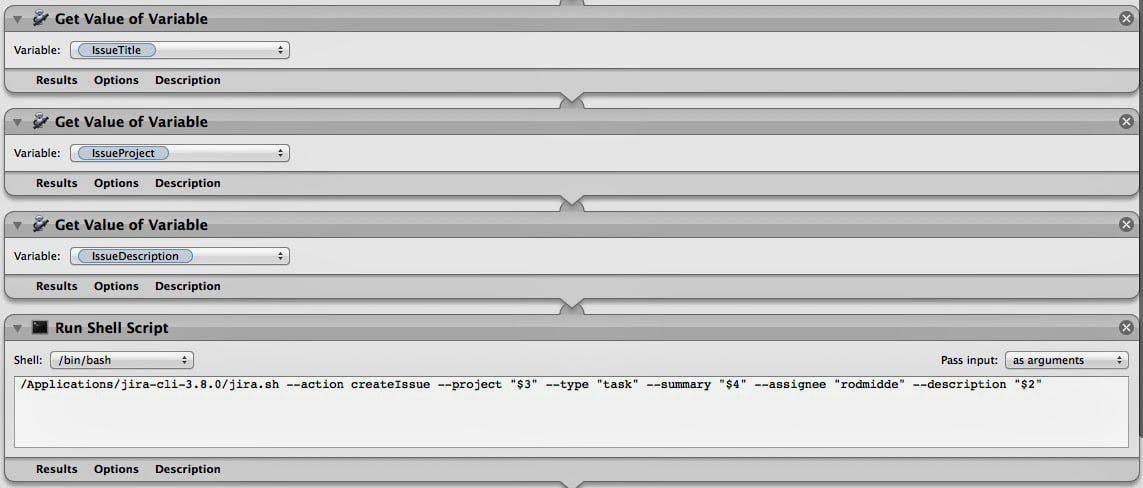 This leads to a nice extra Context Menu Item that can be used to add the issue "Write blog about Automator and JIRA" to my personal project:
If you need the source for the Automator project, please feel free to drop me an email or a comment on the blog.
*this post originally appeared on http://rodymiddelkoop.blogspot.de/2014/05/creating-jira-tasks-right-out-of-apple.html