Social intranets
There are quite a few theming apps available in the Atlassian marketplace, so which one should you choose?
There are many factors in the decision process, like the need for branding, navigation and/or extra social features for your intranet. To provide you with some inspiration and perhaps to give you a kick start on your social intranet journey, we've selected three apps with which we've done successful implementations and that we certainly feel good in recommending. The three apps have some features in common and have their own unique characteristics as well in terms of theming, navigation, supporting collaboration, encouraging adoption, supporting specific use cases, etc.
Brikit, the developers of Theme Press, aimed for simplicity for the user first: It's the Confluence theme for non-technical users. The theme provides several look-and-feel layers so you can easily brand your intranet, configure space and page layouts, navigation menus, presentation, and more. In short, the look and feel is fully customizable. It's not really an out-of-the-box theme for Confluence, although it's not that difficult to use, but you should think of it as more of a site construction kit.
Because Theme Press can do so much, you have to invest the time needed to configure it and to take ownership. But the rewards can certainly be worth the investment. Also, we should note that it's complexity means that it usually takes Brikit a bit more time to be compatible with the latest version of Confluence.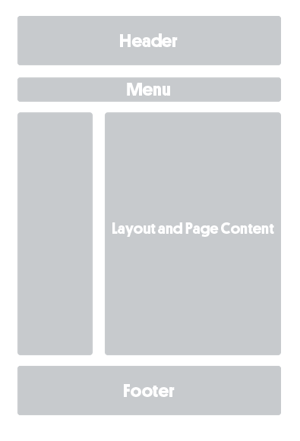 Some features unique to Theme Press:
Rich navigation and authoring tools for s

ites, spaces and pages (also for banners, menus and footers)

Architect Pages: underlying 'control' pages, which help shape, configure, and contribute content

Arrange content in multiple columns and editable blocks that

allows you to edit content block by block, versus editing an entire page in one go

Use the in-context editor to manage colour palettes, font selection, and UI styles to match your exact visual identity

The Theme Designer offers simple options for selection, sizing, and positioning

Customize (site-wide or space-wide) menus to provide effective navigation

Use macros for powerful, controlled content display and access
There's also the Targeted Search, a powerful add-on to help users find exactly what they're looking for. Deployed to select spaces for team use, or site-wide for a consistent search experience.
View Brikit site (made in Theme Press)
Theme Press Designer examples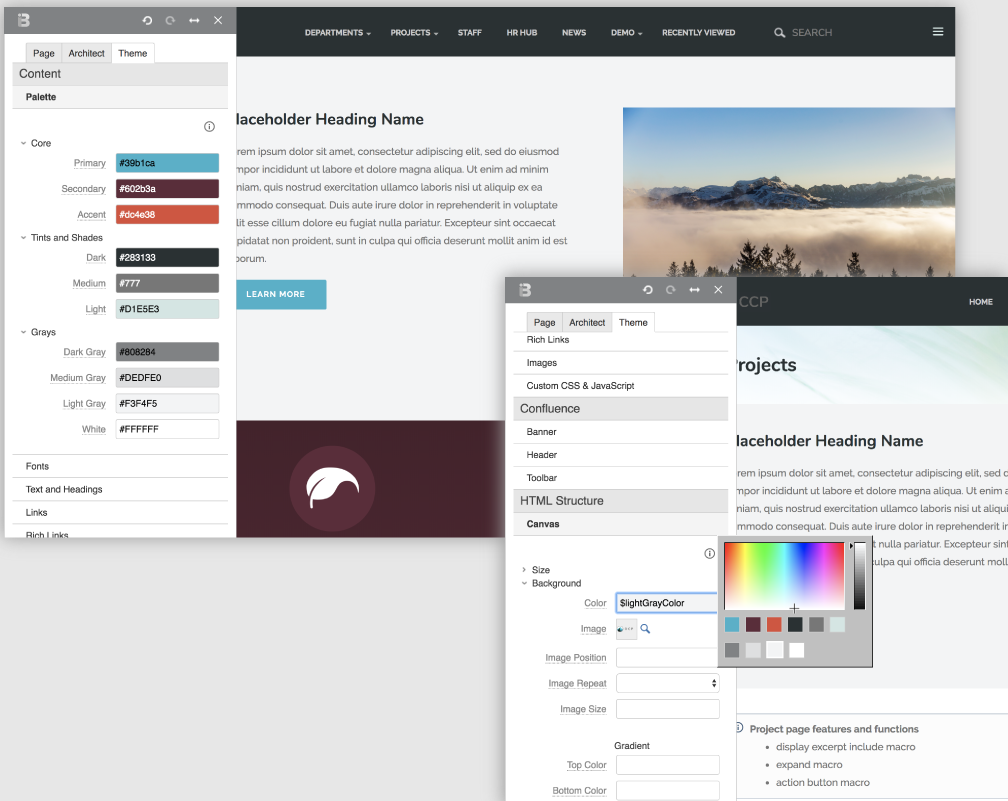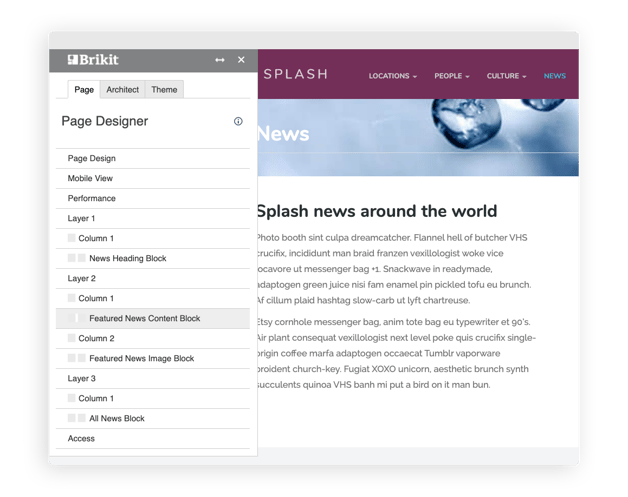 Refined's goal is to provide users with an out-of-the-box solution that's super easy to use and covers most theming requirements. Among the main features, there is a navigation system that organizes all space within categories in a dropdown menu. Last year the developers released Sites. This means that you can build a structure for your content, not only uniting all spaces in categories, but by adding them to aseparate Site, or even multiple ones...
Refined is quick to set up and you can get some great results with minimal effort. There are limitations as far as customizing the look and feel and the navigation, but all and all it packs a lot of bang for the buck.
Some features of Refined:
Organize spaces into categories and sites with the Site Builder
Use Sites for multiple Confluence use cases in the one Confluence instance
Organize spaces into categories in a drop-down menu
Create themes to match your team brand with the Theme Editor
Organize content on Site and Category Homes using custom layouts
Configure layouts per space
Display content visually using content modules and macros
Improve navigation by adding menus and icons
View permissions and easily control who sees what content
Define search boundaries in a site, category or globally
Use the Blog portal for a themed blog experience
There's also the Refined Toolkitfor using different UI elements such as buttons, tabs, etc.
Examples of using different themes in multiple sites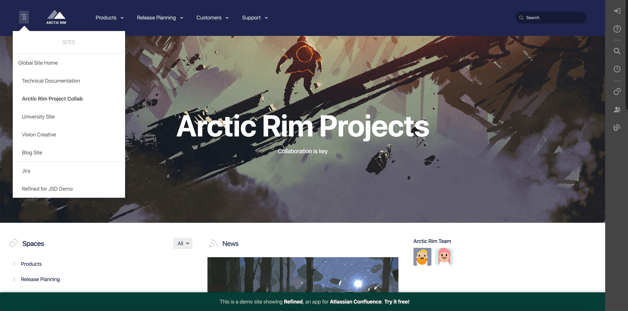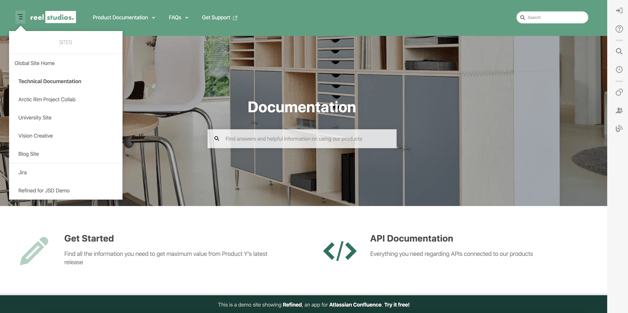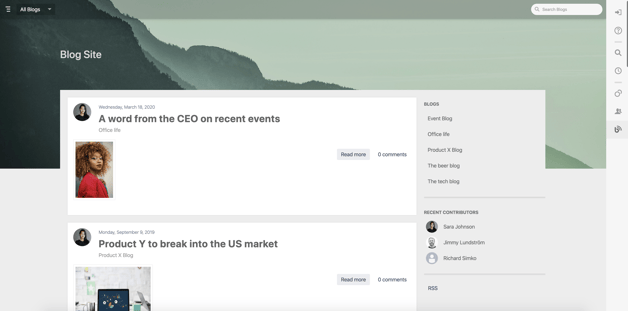 Did you know there's also Refined for Jira? Recently, the vendor expanded the coverage from the existing Jira Service Desk theme engine to also support Jira Core and Jira Software.
This plugin, made by //SEIBERT/MEDIA, is pretty easy to align with your brand. It's possible to upload your logo, put a background image, optimize the font sizes, colours as you wish. Besides the theme plugin, there are many other modules for supporting different use cases like content personalization or extranet functionality (working with external users in protected spaces). There's also the Linchpin Intranet Suite that combines the most important features of a social intranet into one single app (instead of purchasing multiple apps).
Linchpin is easy enough to install and to use. Although it's a bit limited with how far you can tweak the look and feel, it will satisfy most companies. Where it really shines is when using the intranet feature package Seibert offers. This includes things like microblogging, personalized content, localization, custom navigation, external app integration, advanced profiles and more...
Some features of Linchpin Theme:
Use the theme wizard to upload a logo, set primary colours and your theme is ready to go

Use the new content modules for the Linchpin Sidebar with the updates stream, open Confluence tasks, open Jira issues, etc.
Navigation menus and their visibility are easy to control
Assign non-admin users as menu editors
Choose individual colours for header icons, notifications, buttons, links, and more
Add personalized links in the footer section
Customize the login screen
Create different themes for multiple spaces
Give access to closed-off spaces to external customers
There's also the Space Privacyadd-on for working with customers, partners, and suppliers in specific extranet spaces for collaborating in private.
Linchpin examples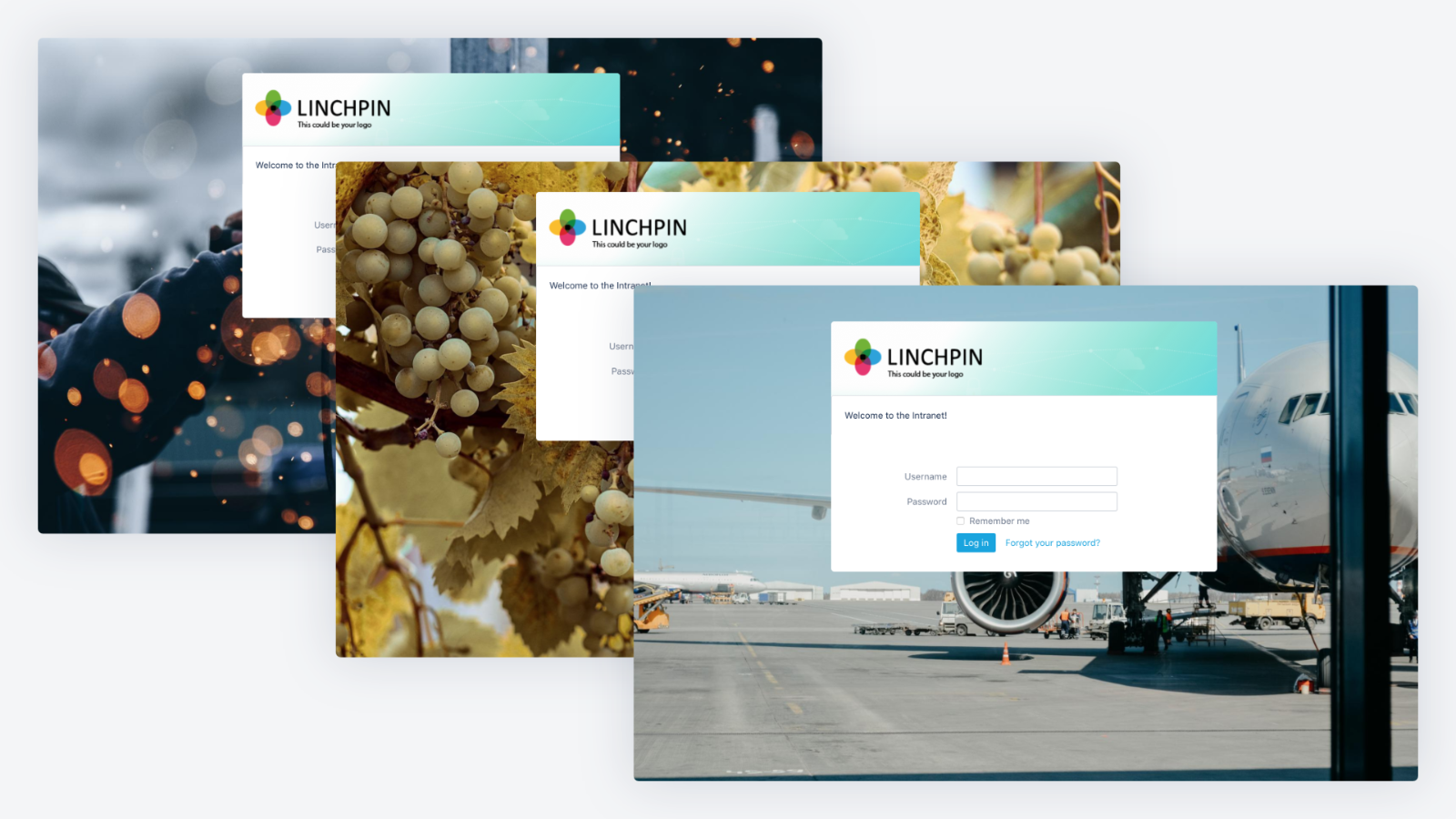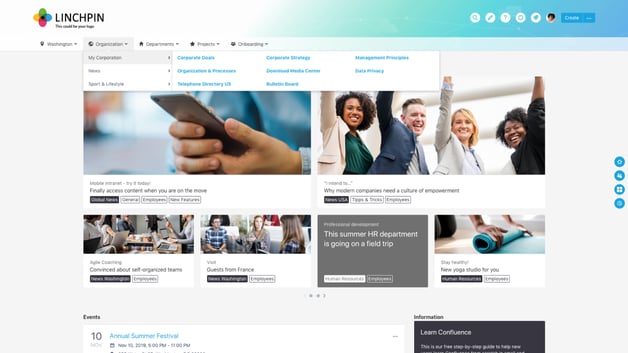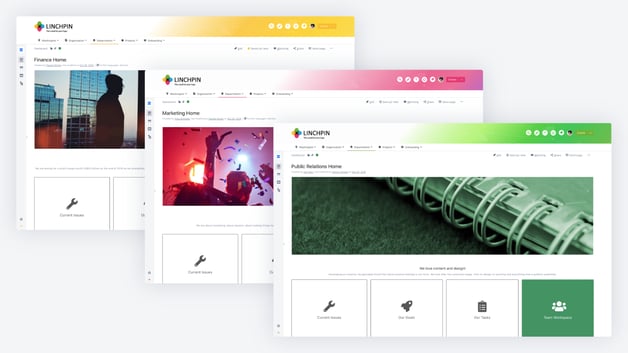 Conclusion
Every customer case is different, so we can't single out one of these theming products as the very best solution. Do you want a fully customizable social intranet or just better navigation and a cleaner layout? Or do you need personalized content (based on location, department, interests)?
It's hard to sum up generic pro's and con's as it really is use case dependant. What we've tried to do instead is to line up some of the selection criteria our customers usually have and rate the products that way. We hope this will help you in the decision process!