Jira Software, Portfolio and the Reporting Gap
Door Kitty de Ruijter / / 3 min
No matter how long ago it was, you probably still remember that implementing an agile way of working was a bit of a struggle. Your teams had to get used to things like story points and sprints, and they had to grasp the fact that agile didn't really mean that they didn't have to plan ahead anymore... But once your teams finally got the hang of it, hopefully, you started noticing a considerable increase in efficiency, faster delivery times and results that were more in line with what the customer wanted.
But after that, you probably also had to face the challenge of scaling this agile way of working. You had to define strategic Themes and split them up into Initiatives, and in turn, cut these Initiatives up into Epics, which you then had to distribute amongst teams. Teams that, at that point, should have the autonomy and skill needed to refine these Epics into Stories.
If all this is managed in Jira Software with the help of Portfolio for Jira, from Theme to Initiative, from Epic to Story, it would seem that you're doing pretty well, so high five for that!
What about reporting progress, performance and results in Jira?
Jira Software and Portfolio for Jira are arguably some of the very best tools available today for managing the work done by multiple teams within an organization. These tools also collect a lot of interesting and useful data. This is because they are used by nearly all team members and because the data is complex, very alive, up-to-date and therefore, quite reliable. For many organizations, you can say this data has become the single source of truth when it comes to tracking work progress.
But when it comes to reporting on this work progress, which resides in a lot of Jira data, it is undeniable that there can be a gap between what stakeholders need and the functionality available out-of-the-box in Jira and Portfolio.
So are you happy about your options for analyzing progress, performance, results and team KPI's? Are you satisfied with your current reporting? Can you say the effort is minimal to get the reports you need out of the tools?
Most likely you will have answered the questions above with the likes of 'Meh', 'Not really' and 'Nooooo'. If not, you may have already discovered BI solutions for Jira, or maybe you're just in denial?
There are many options out there, but in our experience, the best way to fill the reporting functionality gap is by implementing eazyBI Reports and Charts for Jira. This app is directly connected to your Jira data and gives you nearly endless reporting, charting and dashboarding capabilities.
So let's make it a little more concrete with a few examples of charts we've implemented for customers:
This chart shows how initiatives are burned down over sprints. You can also show this over time (by months for example).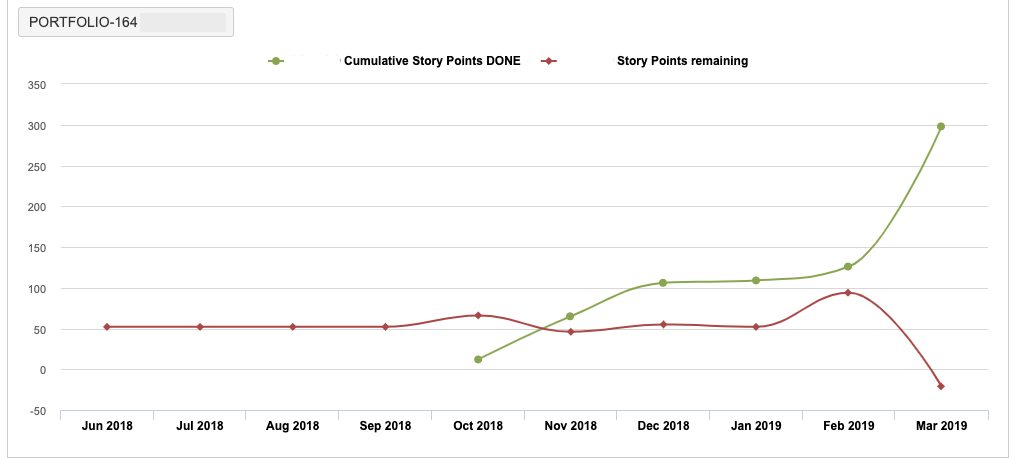 This is an example of an initiative burn-down over time (months), with just two basic (but oh-so-powerful) lines which show the story points remaining and cumulative story points done. Although, one might argue that initiatives don't have a fixed scope, like a sprint does, and that a burn-down chart might not be what you want here. So, a burn-up chart could be more valuable. Well, we can make this too: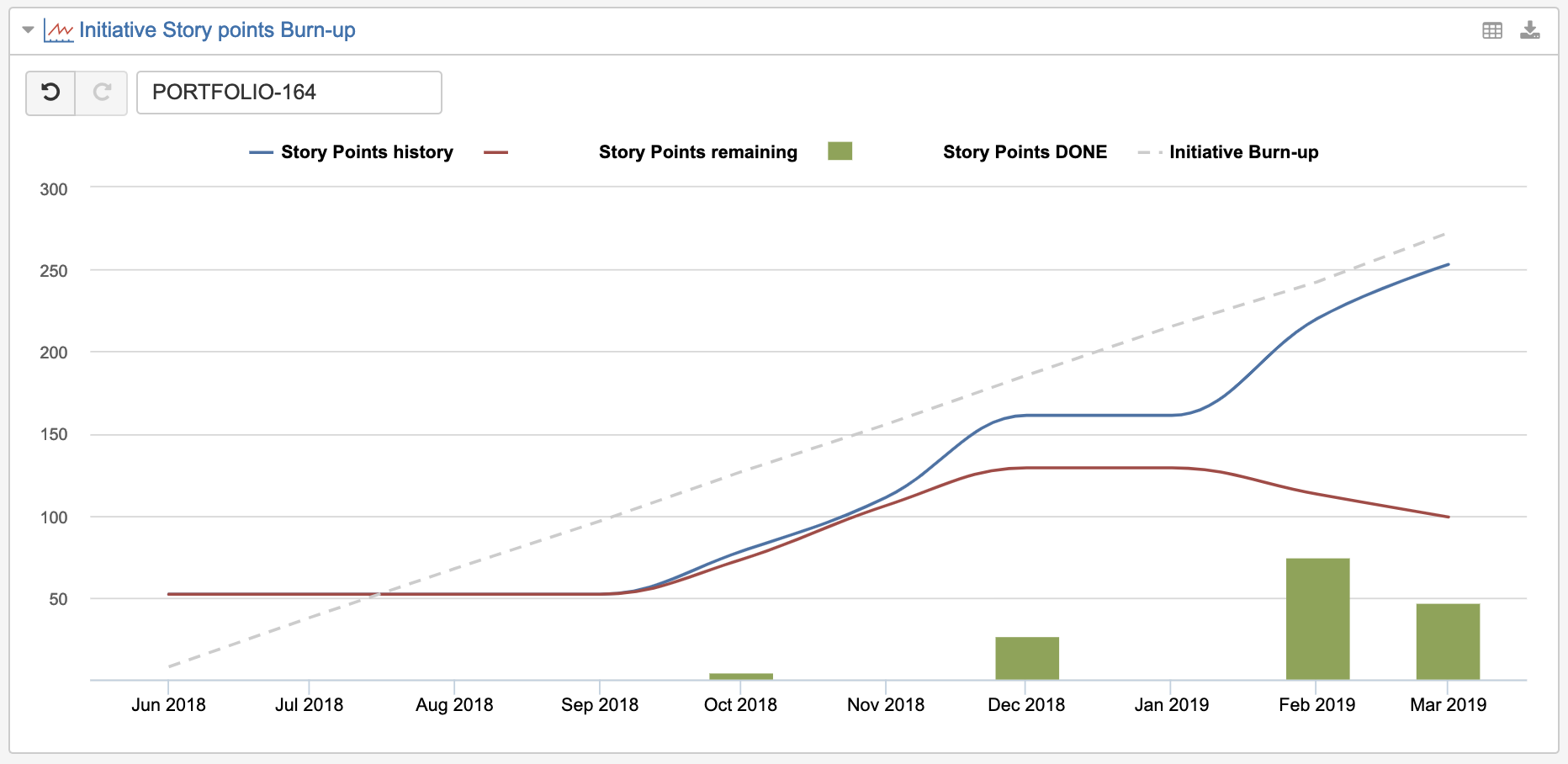 Ok, so enough about initiatives. How about the strategic themes as defined in Portfolio for Jira? Look at this example:

This type of report is particularly valuable for our customers, as there are currently no options to report, or even to query on Portfolio Themes outside of Portfolio for Jira. EazyBI however, can import Portfolio Theme data, from which you can create the reports you want.
Note that not all charts need to be visually attractive. With a simple drag and drop, you can easily combine dimensions of data to show useful information. For example, you may want to know how many hours are spent on initiatives, detailed on Epic level.
In the 'Analyze' section of eazyBI, this overview is created in no time: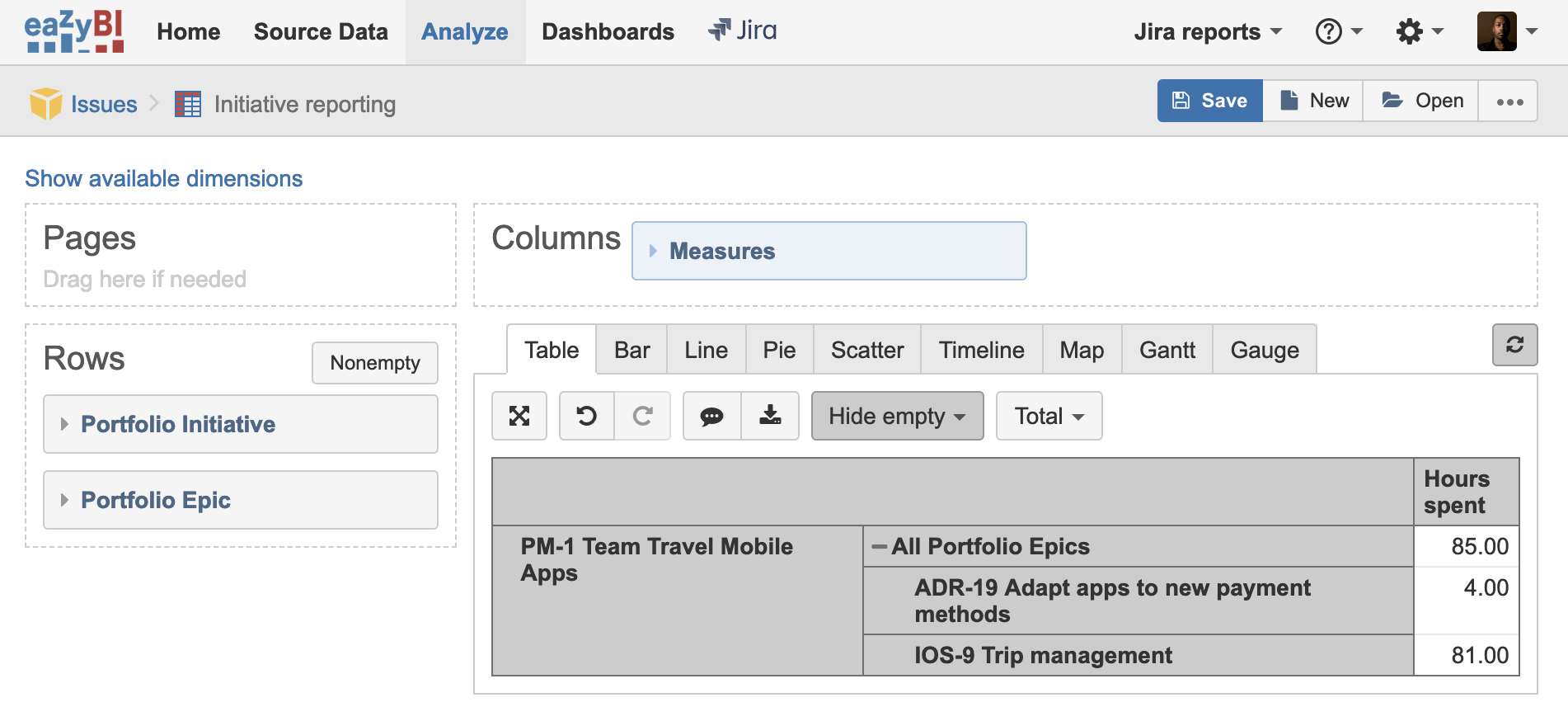 The examples above mainly focus on analyzing Portfolio data. But eazyBI also provides extensive reporting capabilities for individual teams. Like for example reporting on a team's velocity: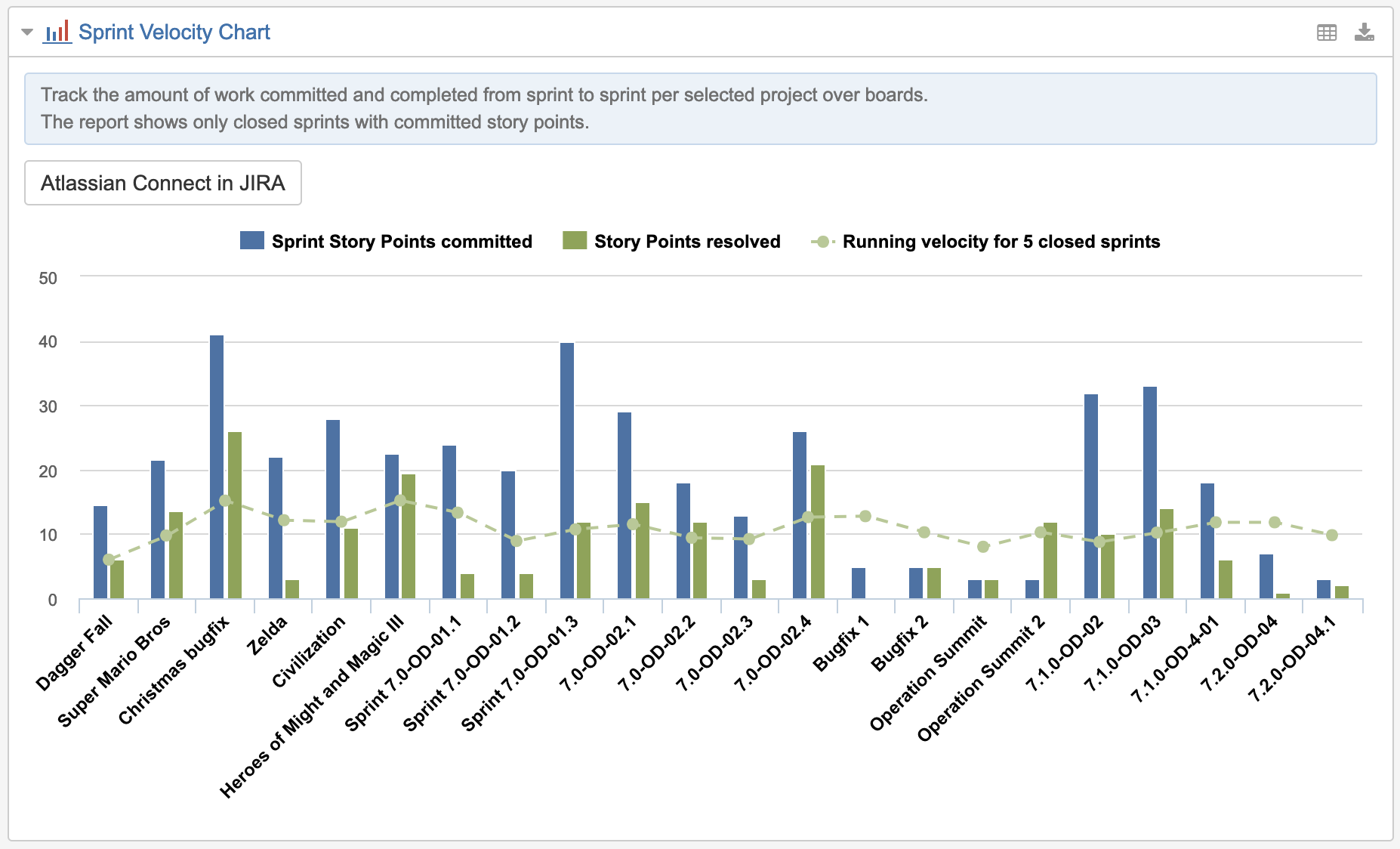 Now, native Jira also has this kind of reporting available, for specific Jira projects. But in this app, you can tweak it further to meet your specific reporting needs. Next to that, it's also rather nice to have all your reporting in one place rather than having to view reports per project.
Hopefully, this post gave you a pretty good idea of the nearly endless BI possibilities this app offers.
If you want to see more examples (like how it can be applied for Jira Service Desk for example), visit these two demo sites published by eazyBI:
Finally, it's good to know that you can add even more data sources to eazyBI, like Tempo Timesheets (to visualize time per Account cross referenced with Epics, for example) and Insight Asset Management for Jira (for reporting on your CMDB, for example).
You can get incredible value out of combining these data sources (Jira and multiple add-ons) to get the insight and overview you need from your precious data.
Need help with that?
---
| Jira
Door Kitty de Ruijter / jun 2023
Blijf op de hoogte — Schrijf je in voor onze nieuwsbrief.