Professionalizing Intemo using Jira Service Management
Type of assignment: Jira Service Management Implementation
Client: Intemo
Intemo develops and sells standard and custom-made industrial computers, automotive systems such as modular on-board computers for emergency services and public transport and Smart City solutions such as solutions to monitor public spaces to gain insight into air quality, livability, and smart energy.
Background - Intemo & Atlassian
Intemo was already using Jira Software in Atlassian Cloud to support the development of its various products. They were also looking to implement a service management. They processed support requests via email and it was impossible to keep track of who was working on what. This way of working also made prioritizing different requests difficult and customers were unable to access their request or supply additional information. By implementing a service management, Intemo can not only offer customers a professional portal and central point to respond to support requests but also give customers more insight into the status of their request.
Jira Service Management Implementation
Though there are many different service management options, the choice for Jira Service Management Cloud was made quickly. After all, Intemo already was already using Jira Software and integrating these applications is easy. Atlassian Cloud makes the choice even more accessible because you do not have to worry about hardware and maintenance.
Intemo found that setting up Jira Service Management turned out to be a bit more difficult than they initially thought. They had set up one project per customer (with its own portal), which made it difficult for the support staff to keep an overview of all tickets in different projects. Avisi was asked for help in reviewing and optimizing the current setup.
We proposed moving away from one Jira Service Management project per customer and consolidate it into one joint Jira Service Management project where all customers use the same portal. By using 'Organizations' in Jira Service Management, requests can easily be grouped per customer, so that you can still get an overview per customer if desired. Another advantage of this Jira Service Management layout is that employees of the same organization also have access to support requests from their colleagues that have already been created. This prevents multiple tickets from being created on the same request.
The registration form: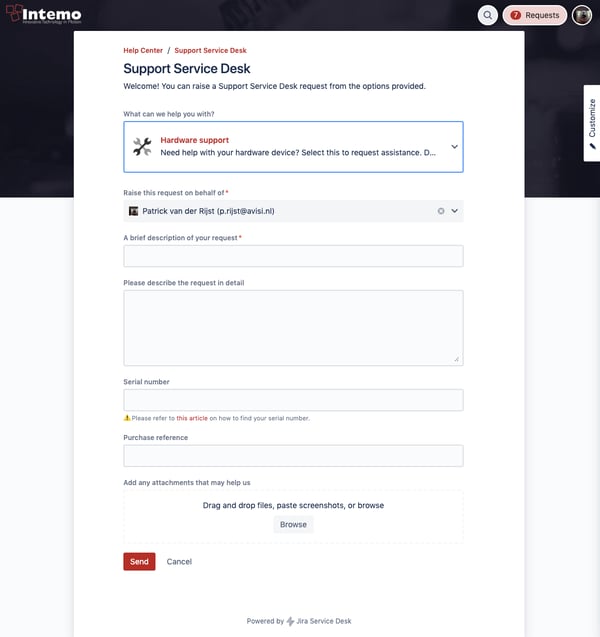 Implementation and integration of Jira Service Management
From start to finish, this project to get the most out of Jira Service Management only took three days, similar to our implementation projects from scratch. Instead of directly configuring the most complex processes in Jira Service Management, we chose to start with the basics and look at the most basic requests. This quickly showed measurable results which is one of the things we are known for!
Our three on-site visits were one week apart. This gave Intemo sufficient time to extensively test the newly implemented adjustments with a number of customers. The next on-site visit day was then devoted to processing findings, optimizing, and adding new functionalities.
The integration with Jira Software and cooperation with other departments
Intemo works with 'serial numbers' to determine whether a product falls within or outside a warranty period. Customers can add this serial number to their support requests. If the customer still has a warranty on the product this automatically creates a linked issue in the support section of the existing RMA (Return Merchandise Authorization) project in Jira Software.
By displaying their Kanban board on a TV screen, the RMA department gets insight into which products are expected for repair. Upon the arrival of the products, this department can easily reschedule a ticket to a status indicating that the product has been received. We created an automated follow-up action that sends a message via the support portal that notifies the customer that their package has been received.
All follow-up actions, such as any necessary forwarding of products to the manufacturer, a repair carried out or the return of the product, are also shared with the customer.
RMA kanban board: